Argentina, Brazil and Uruguay -plus the 13 participating teams- closed today their participation in the last day of the IHF World Championship of Beach Handball Junior Men and Women Heraklion 2022.
The 6 South American teams had to define their positions in the standings when playing their last match of the tournament.
In the case of Brazil, the men's team played the gold medal duel against Croatia, after having an excellent performance last day. Unfortunately, the Cariocas could not replicate the feat and fell to the European draw in shoot-outs.
Thus, the Brazilians close their first participation in a World Youth Championship in 2nd place, following the legacy of their compatriots, while their female peers remained in the 8° place of the ranking after falling 1-2 to Germany.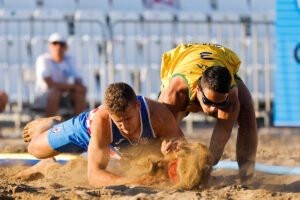 On the other hand, both Argentine teams went for the 5° place of the table and they achieved it. The men's team beat Ukraine 2-1, while the "kamikazes" beat France with the same result.
With these two victories, Argentina bid farewell to the tournament within the top 5 in the world and, although it was not what they expected, remain one of the beach handball powerhouses.
Those who also had their first participation in a World Youth Championship were the Uruguayan teams and, although they did not manage to pass the preliminary stage, Celeste made history and secured their first victories in the intercontinental round.
The last one was added today by the female team that beat India by 2 sets to 0 and was placed in the 13° place of the ranking. Their male peers could not match the feat, as they fell to Greece and were in the 14th place of the World.
With these results, the three countries bid farewell to the intercontinental event pending the next edition.
Check the results of the day and the final ranking of Heraklion Youth 2022:
Female Branch
7/8 Brazil vs Germany 1-2 (18:16/8:17/6:9)
11/12 Greece vs Thailand 1-2
15/16 Puerto Rico vs Hong Kong 2-0
5/6 France vs Argentina 1-2 (12:22/21:14/4:8)
9/10 Romania vs Ukraine 2-1
13/14 India vs Uruguay 0-2 (8:18/16:17)
3/4 Hungary vs Poland 1-2
Final Netherlands vs Spain 1-2
Female Ranking
Spain
Netherlands
Poland
Hungary
Argentina
France
Germany
Brazil
Romania
Ukraine
Thailand
Greece
Uruguay
India
Puerto Rico
Hong Kong
Male Branch
7/8 Germany vs Spain 1-2
11/12 Czech Republic vs Jordan 2-0
15/16 Togo vs United States 2-1
5/6 Ukraine vs Argentina 0-2 (16:18/12:20)
9/10 Sweden vs Qatar 2-0
13/14 Greece vs Uruguay 2-0 (21:20/19:18)
3/4 France vs Iran 1-2
Final Croatia vs Brazil 2-1 (19:18/12:16/9:6)
Male Ranking
Croatia
Brazil
Iran
France
Argentina
Ukraine
Spain
Germany
Sweden
Qatar
Czech Republic
Jordan
Greece
Uruguay
Togo
United States